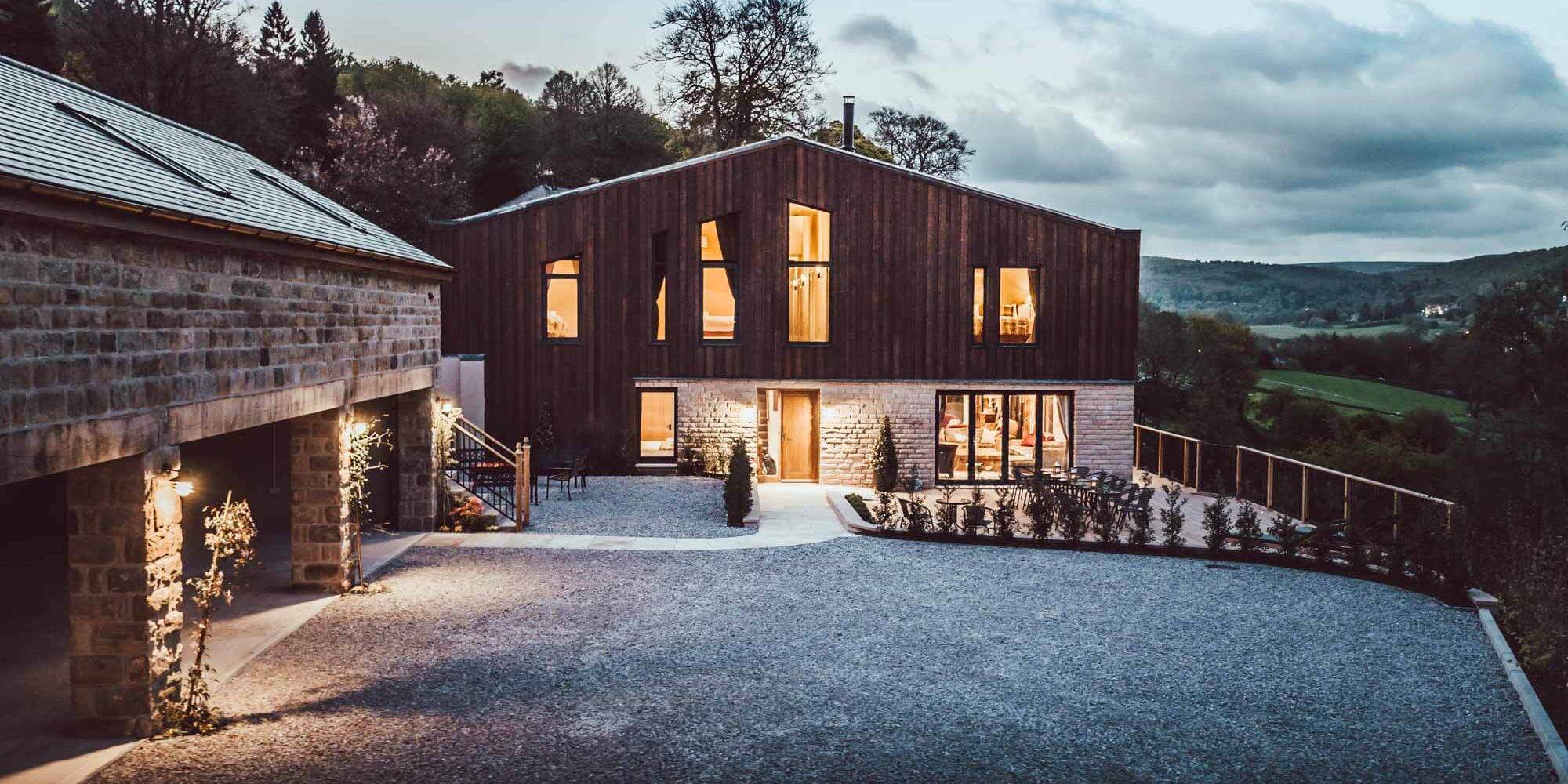 The 9 beautifully appointed en-suite rooms complimented with the open plan lounge dining room provide spectacular views across the Hope Valley, which make it the perfect space to celebrate yoga and meditation.


Set in the picturesque village of Grindleford, in the beautiful Dark Peak, The Cattle Shed is stylish and contemporary, offering the very best in home-from-home luxury.
With wonderful views of Froggatt Edge and the surrounding valley, Grindleford offers the perfect venue for groups to explore all that the Peak District has to offer.
Retreat leader: Vanessa Davies
Focus: Vinyasa flow, restorative, pranayama and deep insight into cultivating a quieter life.
Designed to regenerate your body and mind, Sattva programs are based on research that suggests we can fundamentally transform our physical and emotional health through our daily habits. After a healthy balanced and nourishing breakfast, you'll have the opportunity to explore, immersing yourself in the transformative power of nature. Mindfulness practices will be interweaved throughout your day as you partake in carefully curated activities, if you wish. Alternatively you can simple retreat from the world and take time for yourself.

Our retreats are a refined retreat experience where all aspects of natural health are addressed. Expect your body to become lean, strong, and flexible, as your mind becomes calm, clear, and present. You are simply required to show up, be present, and allow the experience to unveil your inherent potential.


The entire experience is included in the stated prices, no extra "hidden" charges.
Guests are supported by our team of professional teachers who assure safety and enjoyment. Our guests frequently report improved mood, sharper thinking, better sleep, lower blood pressure, an improved direction in life, prolonged weight-loss, and even the lifting of depression.

Our team is the magic ingredient that makes your Sattva experience unique. We are a select group of guides, athletes, and educators.


We share a common interest in the art of living exceptionally well. Led by the Davies family, the team seeks to share their collective wisdom through playful and adventurous experience.


From our first step onto the mat, we are given the opportunity to look into the mirror of 'the self.' The clarity of this mirror affects the reflection that we see and strongly influences our behaviours. During our retreats, you will learn to clarify your mind-body connection with a focus on yoga and its practices. You will be challenged and supported by the playful and insightfulness of our teachers.
Our all-inclusive retreats tap into nature, nutrition, mindfulness, yoga, and functional movement to jumpstart your health. All fitness levels are welcome.
Our comfortable, luxurious and nurturing accommodation is available in a wide range of different options for your convenience.
Sattva offers holistic health solutions to the anxiety, stress and numerous other challenges posed by the ever-changing world. Imagine a place where you can reconnect with your inner self and rejuvenate your mind, body and spirit surrounded by nature.
2 nights in luxury accommodation

Delicious vegan/vegetarian food and drinks (no alcohol)

Indoor and outdoor areas to practice yoga

Suitable for all levels, minimum age 16

Plenty of free time to relax, nourish, and enjoy the surroundings
11 beautifully appointed en-suite bedrooms 2 with bath and shower over and 9 with showers.

Throughout – unlimited drinks including, tea pigs, coffee, water, an abundance of fruit & snacks.  
Location
The postcode is S32 2HW - Important please check directions as the post code does not take you directly to the property.
On the outskirts of the village of Grindleford which has a community village shop, a hotel, a pub and hardcourt football and tennis courts.
Nearest cash point and post office is approx. 1.5 miles at White's Calver where there's also a very well stocked mini market and garage. Outdoor heated pool at Hathersage. Close to Chatsworth and Bakewell
Whats not included:
Flights (where applicable)

Transfers

Travel insurance
Price:
£100 Deposit which is non-refundable.
Single occupancy £650 per person for 2 nights
Double occupancy £450 per person for 2 nights
There are two options for purchasing your space on this retreat (see below):
1: Pay in full to secure your space straight away.
2: Payment plan, £100 deposit followed by a payment plan spreading the remaining balance across the agreed term. Usually the amount of months left before the retreat begins.
Payment plan will be sent via email when the deposit has been purchased.