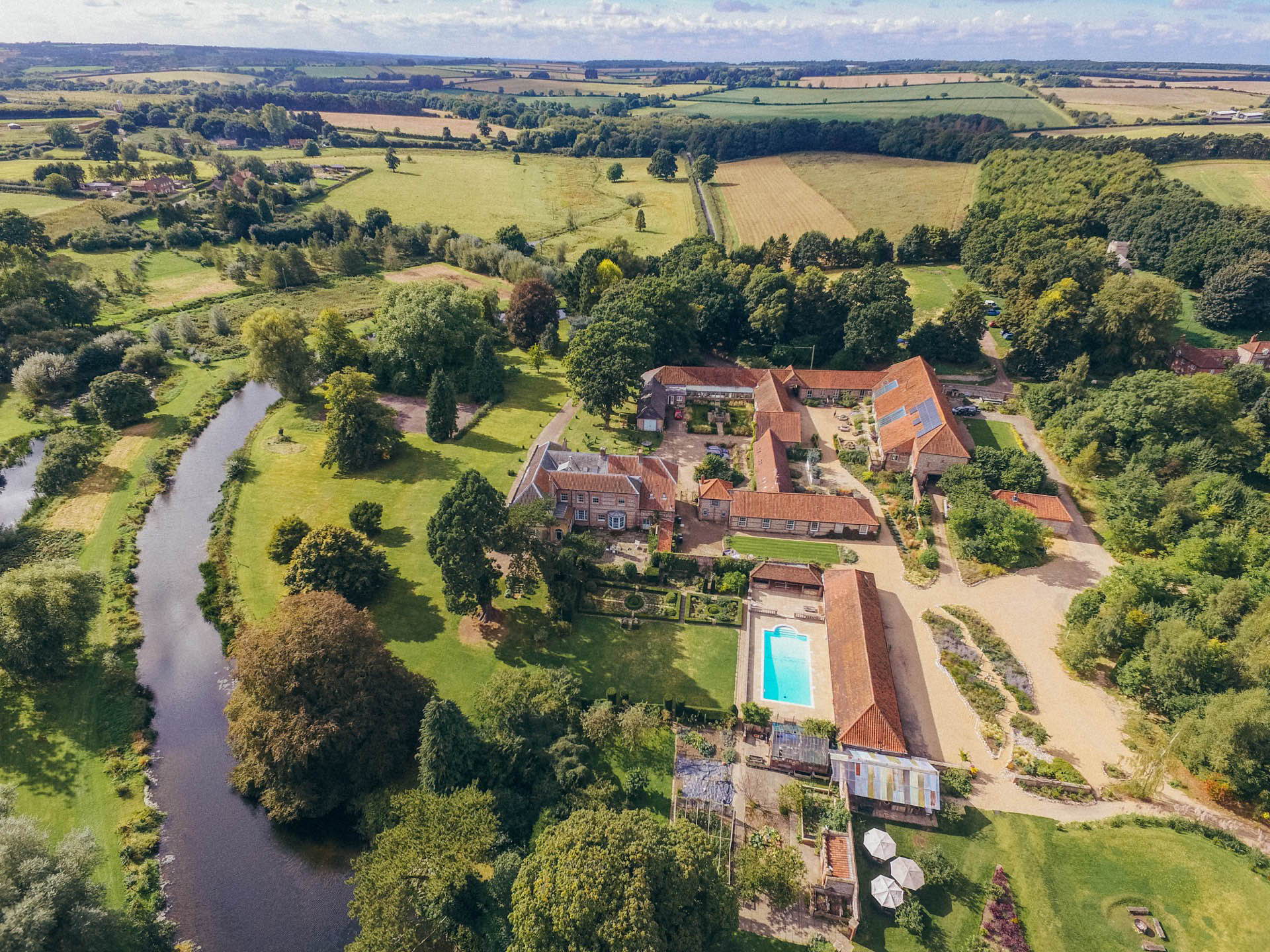 Th aim is to be a rural idyll that explores the best ways of living, working and being and attracts like-hearts and minds, so that we can explore and learn together. There are 21 acres of gardens, rivers and lakes for you to explore.

You will find every type of tree and shrub indigenous to the UK growing happily on the 22 acre estate. The ecology of the floating water meadows has earned it title as an 'Site of Special Scientific Interest', with the restoration of a rare chalk stream and surrounding wildlands creating an active habitat for biodiversity.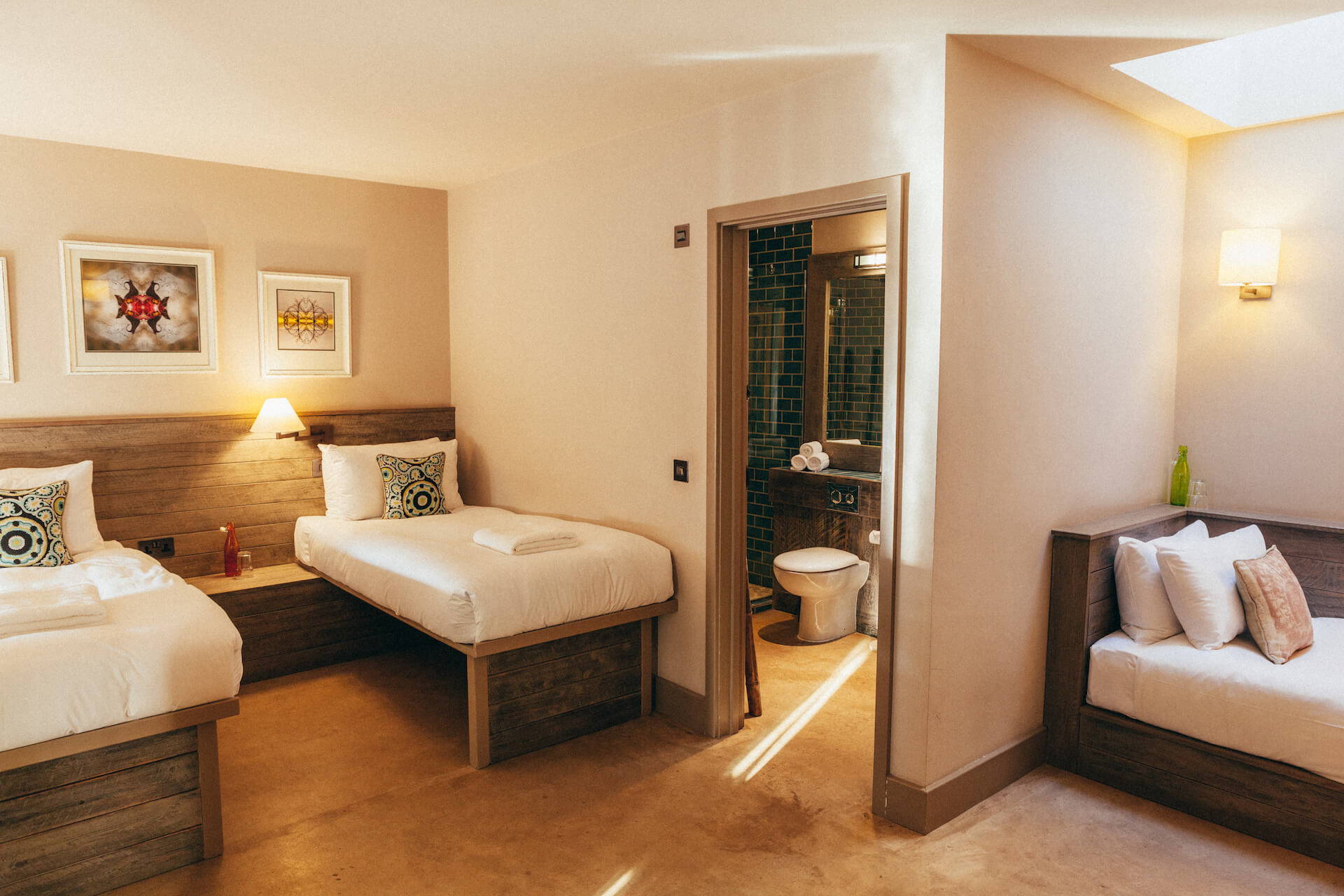 A luxury space for inspiration and rejuvenation - with a purpose- built studio, private garden, log fires and dining space.
- All beds can be either singles or a super king
- 10 luxury en suite double occupancy rooms
- 8 double occupancy rooms
- 2 triple occupancy rooms
Natural filtered swimming pool

Wild swimming lake

Row boats

Lawn games

Sanctuary garden

Chalk stream

Abundance of wildlife

Sustainable and eco-friendly

Run on 95% renewable energy
You have an abundance of time while in West Lexham, feel free to utilise the gardens to find a little time on your own or a beautiful opportunity to make new friends!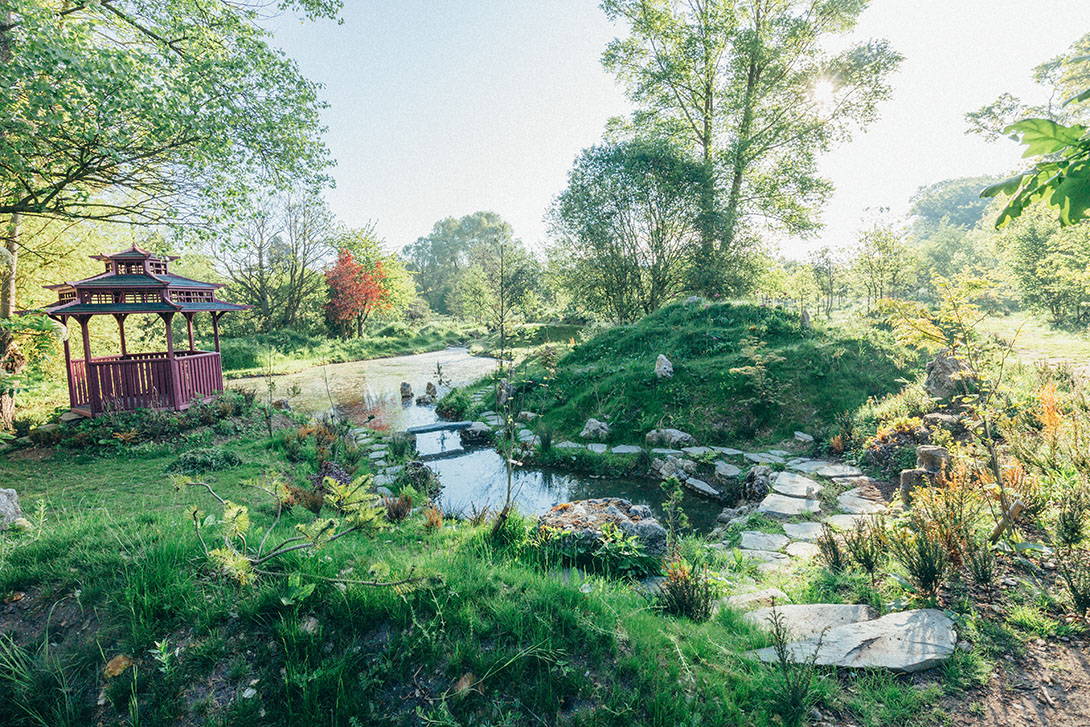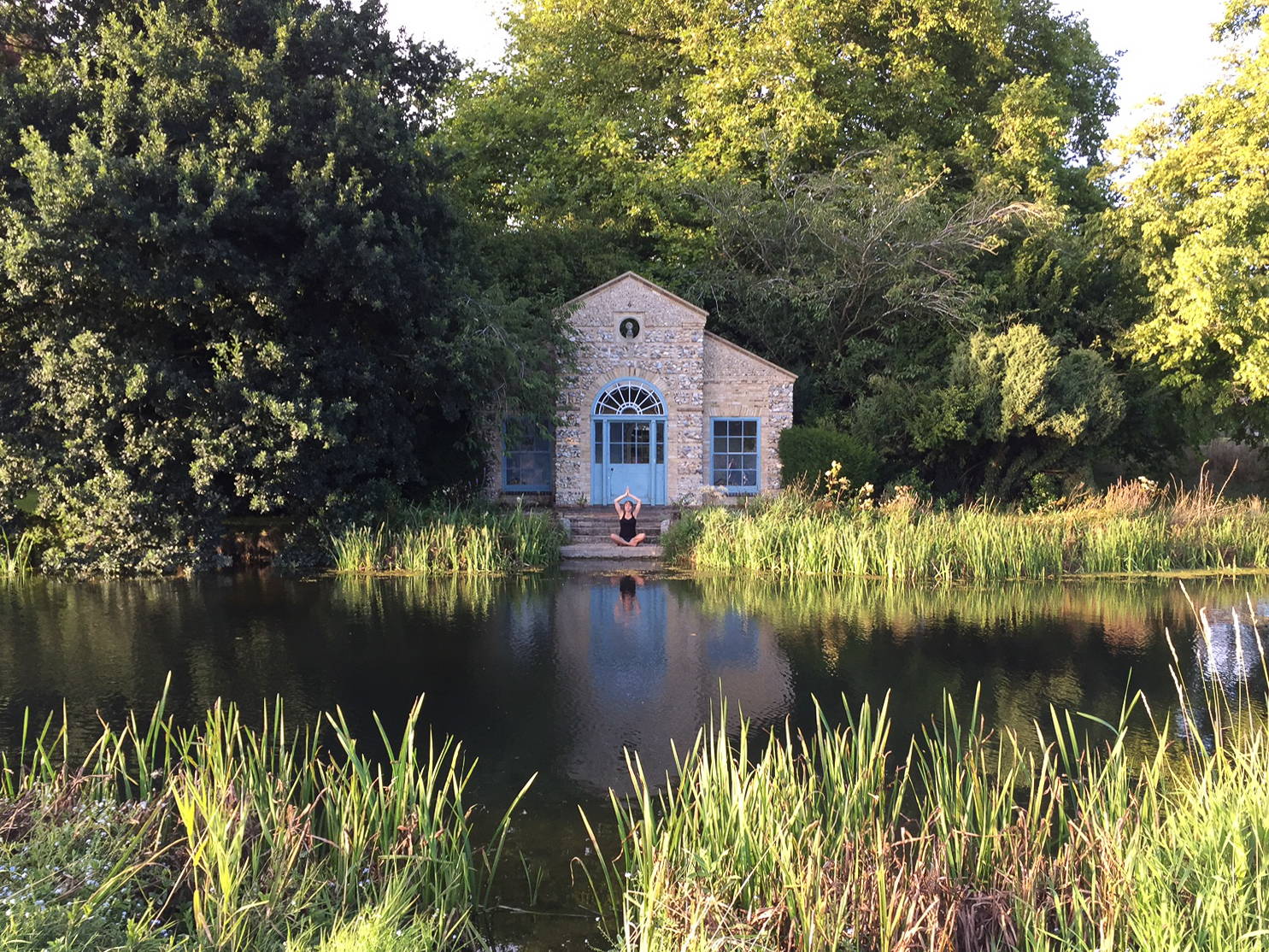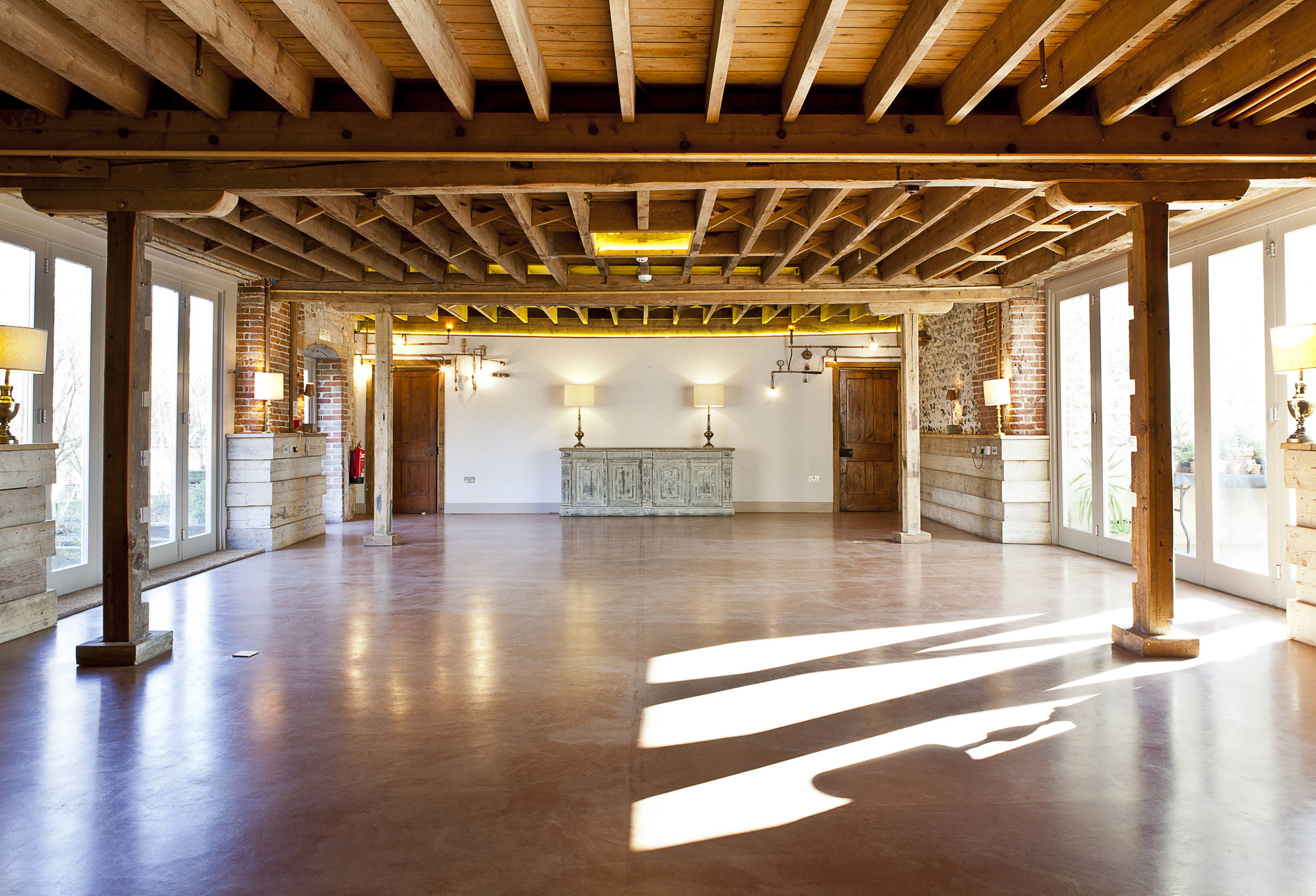 Retreat leaders: Louise Espley & Hayley Davies
Focus: Restorative & Yin Yoga as well as reiki and treatments, from these two beautiful souls.
Designed to regenerate your body and mind, Sattva programs are based on research that suggests we can fundamentally transform our physical and emotional health through our daily habits. After a healthy balanced and nourishing breakfast, you'll have the opportunity to explore, immersing yourself in the transformative power of nature. Mindfulness practices will be interweaved throughout your day as you partake in carefully curated activities, if you wish. Alternatively you can simple retreat from the world and take time for yourself.

Our retreats are a refined retreat experience where all aspects of natural health are addressed. Expect your body to become lean, strong, and flexible, as your mind becomes calm, clear, and present. You are simply required to show up, be present, and allow the experience to unveil your inherent potential.


The entire experience is included in the stated prices, no extra "hidden" charges.
Guests are supported by our team of professional teachers who assure safety and enjoyment. Our guests frequently report improved mood, sharper thinking, better sleep, lower blood pressure, an improved direction in life, prolonged weight-loss, and even the lifting of depression.

Our team is the magic ingredient that makes your Sattva experience unique. We are a select group of guides, athletes, and educators.


We share a common interest in the art of living exceptionally well. Led by the Davies family, the team seeks to share their collective wisdom through playful and adventurous experience.


From our first step onto the mat, we are given the opportunity to look into the mirror of 'the self.' The clarity of this mirror affects the reflection that we see and strongly influences our behaviours. During our retreats, you will learn to clarify your mind-body connection with a focus on yoga and its practices. You will be challenged and supported by the playful and insightfulness of our teachers.
Our all-inclusive retreats tap into nature, nutrition, mindfulness, yoga, and functional movement to jumpstart your health. All fitness levels are welcome.
Our comfortable, luxurious and nurturing accommodation is available in a wide range of different options for your convenience.
Sattva offers holistic health solutions to the anxiety, stress and numerous other challenges posed by the ever-changing world. Imagine a place where you can reconnect with your inner self and rejuvenate your mind, body and spirit surrounded by nature.
3 nights in luxury accommodation
Delicious vegan/vegetarian food and drinks (no alcohol)
Indoor and outdoor areas to practice yoga
Suitable for all levels, minimum age 16

Plenty of free time to relax, nourish, and enjoy the surroundings
Throughout – unlimited drinks including, tea pigs, coffee, water, an abundance of fruit & snacks.  
Location
The postcode is PE32 2QN- Important please check directions as the post code does not take you directly to the property.
West Lexham Manor
Nr. Kings Lynn
Norfolk, PE32 2QN
Whats not included:
Flights (where applicable)

Transfers

Travel insurance
Single occupancy £945 per person for 3 nights
Dual occupancy £675 per person for 3 nights
There are two options for purchasing your space on this retreat (see below):
1: Pay in full to secure your space straight away.
2: Payment plan, £100 deposit followed by a payment plan spreading the remaining balance across the agreed term. Usually the amount of months left before the retreat begins.
Payment plan will be sent via email when the deposit has been purchased.